Our Dredge Mike Hooks had another productive day today on the Nola Harbor project, this time down at Milan Street Wharf across from the Harvey Locks. Excellent work is in order for the whole team. Keep it up! Photo credit: Jimmy Rogers
read more
Glad to be back in New Orleans on the Nola Harbor Project. Kicked it off yesterday, dredging from Poydras down to Orange Street making sure the Mother River stays open for business in these parts.
read more
Mike Hooks is dedicated to building our safety culture through training, education, and policy development.
As a 3rd-generation, family-owned company, we understand that our employees are our greatest asset, and we strive to minimize accidents through risk analysis and mitigation. We extend this passion for safety awareness, health, and personal responsibility to every one of our employees as though they were a member of our own family to promote safety and well-being.
Our family owned and operated business was founded in 1945. Since the very beginning, Mike Hooks has provided dredging services on a variety of private and public marine construction contracts along the Gulf Coast.
In 1955, the company moved to the current location and was officially incorporated in 1957. The 10-acre yard is conveniently positioned off the Calcasieu Ship Channel in Westlake, LA. With access to the Calcasieu River and Intracoastal Waterway, Hooks' fleet of dredges can quickly mobilize to any point along the Gulf Coast.
From our humble beginnings through today, the company's fleet of hydraulic cutter head dredges continues to provide services throughout the Gulf Coast.
Join Our Team
Advance your career within the dredging industry today! Browse our job openings and easily apply online with just a few simple clicks.
Mike Hooks, LLC specializes in a variety of dredging applications to suit our client's needs including services for environmental and commercial marine construction projects.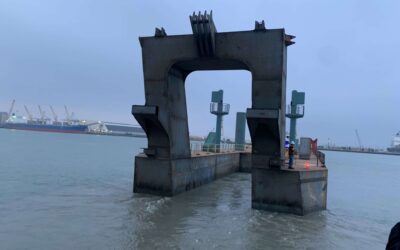 The team at Mike Hooks, LLC is proud to share with you that last week we hit a major milestone in the construction of our new state-of-the-art cutter suction dredge Lorraine Hooks. The 430,000 lb. cutter ladder was carefully carried and lowered into place by overhead...
read more
Competitive Salary
We work hard to ensure that employees are compensated at or above industry standards.
Give us a call to discuss current rates.
Medical, Health & Dental
Medical insurance available after 60 days of employment. After 1 year, the employee's medical is covered by the company.
Health & Dental available after 90 days of employment.
401(k) + Matching
After 1 year of service, all employees are eligible to participate in our 401(k) program with matching based on years of service.
Job Openings
Browse our list of job openings. Sort by category, type, function, and more. We keep the latest job openings available online. Are you the talent we're looking for?