Environmental stewardship is a core value at Mike Hooks, LLC. This Friday we will work with partners Phillips 66, the Coastal Conservation Association of Louisiana's Lake Charles Chapter, and Martin Ecosystems to rebuild and strengthen the resiliency of the coastline of Lake Prien with 2,000 sq. ft. of new, floating wetland island habitat.
More than 100 students from Pearl Watson Elementary, LaGrange High School, and Westlake High School and Episcopal Day School, along with partner volunteers, will plant nearly 1,500 native plants on "island" segments that will be connected end-to-end, and then towed by Mike Hooks to the installation point and anchored to the water bottom. This floating island marsh technology, developed by Martin Ecosystems, allows the plants to take root and naturally fortify the lake's eroded coastline.
Friday's project will build upon a similar project carried out in Lake Prien in 2019, essentially doubling the size of new marshland and critical marine habitat.
This is the sixth floating islands project spearheaded by the Coastal Conservarion Association in recent years. In all, nearly 25,000 sq. ft. of new marsh has been built by CCA.
Thanks to Phillips 66 for the funding and to the Calcasieu Parish Police Jury and Calcasieu Parish Sheriff's Department for in-kind services. The Stream Family donated the property and high salinity grass for the floating islands. It was a team effort all-around, just like in 2019! Proud to be a part of it!
If you're interested in volunteering for the Lake Charles Floating Islands Restoration Project, please reach out to CCA at (225) 952-9200. Planting goes from 9:00am-1:30pm. A news conference is scheduled for 11am.
The throwback picture below shows volunteers from the 2019 floating islands project with Lake Prien and Mike Hooks equipment handling the installation.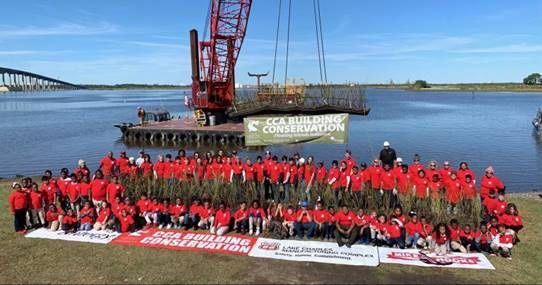 #wetlandsconservation#climateresilience#coastalprotection#restorarion#dredging#marine#americanmaritimestrong#innovation#lakecharles#infrastructure#team#volunteersmakeadifference#familyownedbusiness